Bowl for Kids Sake 2020 is here!
Lucan Bowling Lanes
Sunday March 22nd – 1pm and 3pm
Town & Country Bowling Lanes Zurich
Friday March 27th – 5pm and 7pm
Saturday March 28th – 11am, 1pm and 3pm
It's Time to Lace Up and Start Something Big! Get out of the cold and on to the lanes because
Bowl for Kids Sake is here!
It's that time of year when our community comes together in support of
Big Brothers Big Sisters of South Huron at the annual Bowl for Kids Sake event
We invite you to join the many supporters who make this annual event such a BIG success.
This years theme is Go for Gold!
Come dressed as a gold medal winner!
Prizes will be awarded at each event for the best dressed team, the best dressed adult and the best dressed child. Challenge prizes and door prizes also to be awarded at each event!
Be sure to check out the incentive prizes. Starting at just $150 in pledges, you will receive a Canadian Tire gift card! The more you raise, the more you will receive.
Last year, Bowl for Kids Sake raised over $18,200 for our Agency! With your  support we can go above and beyond to support the children in the community!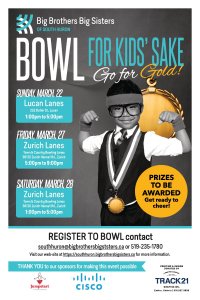 YOU can get involved today 
Organize a bowling team and come out and bowl
Ask EVERYONE to sponsor you! There is no minimum amount of pledges required.
E-mail your friends and family, and post on your social media, asking them to sponsor you on-line by visiting https://southhuron.bigbrothersbigsisters.ca/donate.
Simply make a donation to the event if you are unable to attend but want to support it!
Incentive Prizes
Provided by Canadian Tire – Exeter


Any bowler who raises:
Pledges Raised                Rewards Earned
$1,000 +                       $100.00 Canadian Tire Gift Card
$   750 +                          $75.00 Canadian Tire Gift Card
$   500 +                          $50.00 Canadian Tire Gift Card
$   375 +                          $35.00 Canadian Tire Gift Card
$   250 +                          $25.00 Canadian Tire Gift Card
$   150 +                           $10.00 Canadian Tire Gift Card
Completed pledge forms must be handed in the day of bowling in order to receive your Gift Card
**Gift Cards will be handed out once all Bowl for Kids Sake Events have been completed**
Pledge form 2020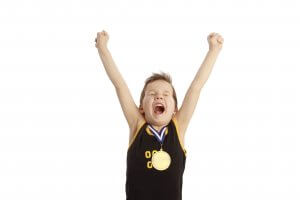 To register to bowl, contact our office at 519-235-1780 or southhuron@bigbrothersbigsisters.ca
Raise those pledges by asking everyone you know and take comfort in knowing your support matters.